As the second post in our migrating hummingbird series I set my attention on Costa's and Allen's Hummingbirds. Only a portion of the Allen's Hummingbird population actually migrates out of California during the winter. Although not totally gone the Costa's is very uncommon in winter and can be difficult to find. At this time both of these species are very prevalent in the proper habitat.
Costa's Hummingbird
Costa's Hummingbird has made the most dramatic changes in occurrence recently. The foothills and canyons along our coastal range have had large numbers of these hummingbirds passing through over the last few weeks with many staying to breed. Costa's Hummingbird is a dry chaparral species that is mostly found here in Orange County in the lower areas of our Santa Ana Mountains. I took the photos of the bird on the left in Silverado Canyon. At creek crossings along the road the number of Costa's Hummingbirds coming down to drink and bathe have been really impressive. I had also taken photos of Costa's Hummingbird at Whiting Ranch but the frequency was not near as high.
In writing this post I took multiple trips into Silverado Canyon and had also run into both Calliope and Rufous Hummingbirds (photo). These were the topics of the previous hummingbird post. I thought it was particularly interesting to have seen both a male (photo) and female Calliope Hummingbird (photo) drinking water at a stream crossing along the road.
Allen's Hummingbirds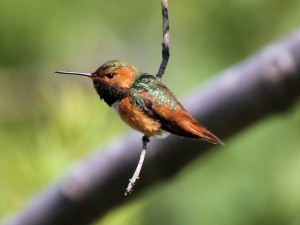 While in Silverado Canyon I also saw many Allen's Hummingbirds. This hummingbird is much more consistent in frequency here in Orange County than the Costa's Hummingbird is. Only one race of the Allen?s Hummingbird actually migrates south in the winter. A large portion of the population remains resident here year round. It is fairly widespread in occurrence throughout the county and along most of the California coastline during the spring and summer months. The green on the back of the Allen's Hummingbirds readily distinguish it from the Rufous Hummingbirds. Immatures and females are very difficult to distinguish in the field.
Previous Hummingbird Post – Next Hummingbird Post