Clearly, hummingbird migration has begun here in Southern California. We went to Sea Terrace Community Park this past weekend to look for reported Rufous and Calliope Hummingbird. I have never been to this small park right along Pacific Coast Highway and it was very interesting. As its name implies it is a small community park that is along the Coast Highway between Dana Point and Laguna Beach.
Rufous Hummingbird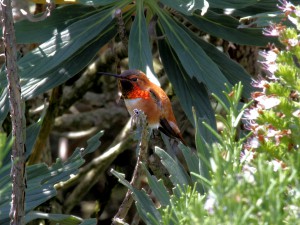 The majority of the park is just an open grassy area with small islands of well-manicured vegetation. Although not overly busy there were a few people flying remote gliders or planes and walking the paths. It seemed were the only one looking at the hummingbirds. The park is virtually on Pacific Coast Highway and just a stone throw from the beach.
The number of hummingbirds was quite a surprise. In most of the vegetated areas Flowering Pride of Madera was prevalent. The hummingbirds were abundant feeding on the blossoms. We see a fair number of Allen's Hummingbird along the coast. It was particularly interesting to see such a good mix of Rufous Hummingbird here also.
Calliope Hummingbirds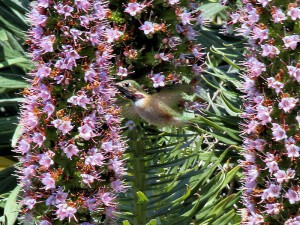 Six species of hummingbirds can be found here in Orange County (Anna's, Costa's, Rufous, Black-chinned, Allen's and rarely Calliope). People mostly see Calliope Hummingbird in the Santa Ana Mountains. It also showed up this year along the coastal lowlands in both Sea Terrace Community Park and Huntington Central Park. It was a real treat to see this hummingbird and especially unusual right on our coastline. The abundant Anna's, Allen's and Rufous Hummingbirds were also a treat that made for a quick morning of four of the six species of hummingbirds found in the county. Note: for those of you who might call me on this count… yes, in addition Broad-billed Hummingbird has rare, scattered records within the county.