Mid-April we took a trip to Puerto Rico to see the Puerto Rican birds and wildlife. As expected, the weather was warm and humid. Luckily we did not run into any rain at all, which made for a very productive nature watching adventure. The birdlife was abundant. The coastline and rainforests were absolutely beautiful. There are 18 endemic species of Puerto Rican birds and 30 endemic reptiles and amphibians. Our main interest was the birds. We did, though, run across some of the of the other endemics too. I am sorry to say that there are also 13 wildlife species that have gone extinct. One of these was a Puerto Rican Barn Owl that I would have really liked to have seen. Several threatened species are in jeopardy.
The Island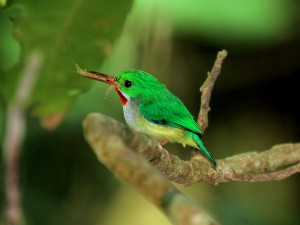 Puerto Rico is about 100 miles long (east to west) and 35 miles wide (north to south). Arriving in San Juan in the northeast, we immediately headed further east and south to El Yunque (formerly known as the Caribbean National Forest), which is the largest block of public land in Puerto Rico – 28,000 acres! In United States National Forest System this is the only Tropical Rain Forest (although there are other rainforests in the system existing in the Pacific Northwest and Alaska). Puerto Rico is an island so none of the endemic Puerto Rican birds exist anywhere else in the world except on this small island. This makes all the endemic wildlife here very special and very important to protect. It also makes it very vulnerable. So much of our worlds biodiversity is in jeopardy and we are loosing it at an alarming rate. Mankind is dependent on Earth's biodiversity.
El Yunque and the Puerto Rican Birds
The government protects El Yunque from development. The forest has an average 70-80 degree temperature year round. With ample rainfall (over 200 inches a year in some areas) it is lush and abundant in birdlife. We spent three days hiking the trails and exploring this area. I could have easily spent a month there. Many of the endemic Puerto Rican birds are possible there along with other endemic species of plants, reptiles, and amphibians. The small trail at the visitor center itself is a simple short walk and is abundant in birdlife. It is such a pleasure as a naturalist to know that many of the things you see in this place is only found here. The species are very precious. We have seen so many of these small places in the world loose their unique forms of life. This is especially true in very recent times.
Accommodations
At night, we stayed outside the reserve along the east side of El Yunque. We spent our first night at the El Hotelito. It was very beautiful with many of the endemic Puerto Rican birds but had no electricity. The day we arrived it was overcast so their solar generators didn't produce enough power to run the water pumps. Subsequently there was also then no water. Contrary to the management's claim that people came to "unplug" from the world, we wanted to come home at night, take a shower and prepare for our next day without flashlights. This place may be more appropriate to locals. We quickly moved to the Ceiba Country Inn for our second and third night stay near El Yunque.
The Ceiba Country Inn
Ceiba Country Inn is popular among nature lovers. The inn boasts of the many endemic Puerto Rican birds that are right on their property. There are also Puerto Rican Screech-owls on the property which was one of my main target species. This owl was not being cooperative though. We could hear them but getting good views or photos was very difficult. During our stay, we tried both nights to see and photograph this owl. We only managed to convince one owl to come out for us to see and photograph it. See also our sister site owling.com for information on this owl.
On the grounds of the Ceiba Country Inn we did see several interesting and endemic Puerto Rican birds besides the Puerto Rican Screech Owl. These included the Puerto Rican Lizard Cuckoo, Puerto Rican Woodpecker, Puerto Rican Oriole, Puerto Rican Tanager, Mangrove Cuckoo, etc. It was easy to see some of the endemic coquí (frogs) and lizards. Overall this place, although not luxurious, was clean and not overly expensive. It had a convenient location. They had a nice continental breakfast each morning and exceptional wildlife was right on the grounds of the inn.
Bosque Estatal De Río Abajo


On our third day, after a final Hike in El Yunque, we headed west towards Bosque Estatal De Río Abajo. This was also an exceptional rainforest but its major attraction for us was the possibility of seeing the endangered Puerto Rican Amazon (Parrot). We looked for this species in El Yunque also, as many birders do, but at this time the best chances of finding this rare and endangered parrot is certainly in Bosque Estatal. There is a breeding program for the parrots in this protected forest. In many of the reports I have read, the birdwatchers are looking in El Yunque for this species. Although we did also look for them in El Yunque it was here in Bosque Estatal that we saw them. We hiked back into this reserve two days in a row and again I could have spent a month exploring the area.
Puerto Rican Amazon Parrot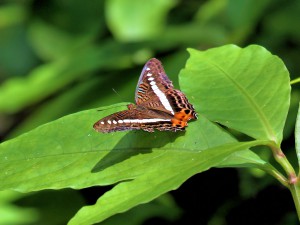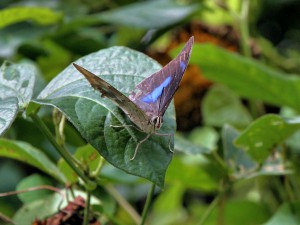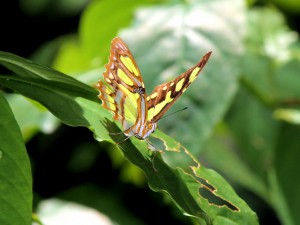 On our second day in Bosque Estatal we were lucky enough to have met a Puerto Rican who got us in to see some of the parrots in the breeding program. This was a very interesting place that had armed guards to protect the parrots. When we arrived, the guards would not even allow us to photograph the parrots in their cages. They were extremely protective and would not even allow us into back to see the main aviaries.
We also saw the parrots flying free in the forest although never managed to get any photos of them. Bosque Estatal has many of the species that we saw previously in El Yunque. The government also protects this rainforest. It is a beautiful, lush rainforest and it has far fewer visitors than El Yunque. We saw many of the Puerto Rican birds closer up in a nice quiet environment. These two places are similar yet different in the densities of individual species.
Arecibo Observatory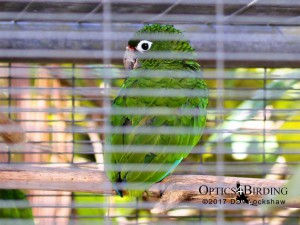 After leaving Bosque Estatal we went up to see the nearby Arecibo Observatory. This is the largest radio telescope in the world. The research they are doing is very interesting. There is a nice museum at the observatory and a tour comes with the $10 price of admission. The history of its construction was also extremely interesting.
From Arecibo Observatory we headed towards the northwest coast because I wanted to see the White-tailed Tropicbirds along the coastline. After a very long day we got a room in Aguadilla and held off seeing the tropicbirds for the next morning. It had gotten dark as we arrived and was interesting to hear Antillean Nighthawks flying very close. Disappointingly we never spotted one. Next time I get to go to Puerto Rico I am going to spend the time to find one of these.
White-tailed Tropicbirds
Getting up on our 7th day in Puerto Rico we went to see the tropicbirds along the northwest coast. Not endemic to Puerto Rico but a truly elegant bird these are. We saw many of these graceful birds along the coastline. Once again this is a place that I'd like to spend a few relaxing days to explore. There are exceptional beaches, a gorgeous rocky coastline and few to no people.
The White-tailed Tropicbirds nest on the cliffs along the coastline here and were very abundant. Since we were generally heading towards the well-known hardware store in La Parguera we only got to stay and watch the White-tailed Tropicbirds flying in and out of the cliffs for about an hour. These birds, which I had never seen before, were really magnificent. They were sometimes flying in pairs and sometimes alone. The beach just to the west of where Highway 2 hits the coastline above Quebradillas had a dozen or more of the tropicbirds flying around. What a sight!
Parguera and Bosque Estatal De Guánica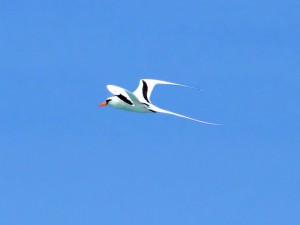 Next, we continued south hoping to see the endemic and critically endangered Yellow-shouldered Blackbirds. In the small town of Parguera they feed them at the hardware/grocery store. They can be regularly found at this location. We had gotten there in the late afternoon but there were no Blackbirds to be seen. The gal in the hardware store said that they throw out food around 3:00PM in the afternoon and we should try coming back the following day.
We left Parguera as the sun was setting and made it to Bosque Estatal De Guánica in perfect timing to potentially find the Puerto Rican Nightjar, another critically endangered endemic bird. Walking (uphill) into Bosque Estatal De Guánica you could hear the nightjar calling as the sun set. We had a couple individuals very close by the road yet we could not spot one. As it got dark we could also hear multiple Puerto Rican Screech Owls calling.
Green Iguanas

After our brief evening walk into Bosque Estatal De Guánica we continued a little further east for the evening. We stayed in the Pichi's Hotel & Convention Center slightly east of Bosque Estatal De Guánica. This was a decent place to stay that was conveniently located for us to go back the next day to see the Yellow-shouldered Blackbirds and give another try for the nightjar. I was particularly impressed with the large Green Iguanas in the trees outside the windows as we ate breakfast in the morning. I clearly had catching one of these after breakfast on my mind … they were much faster than I had anticipated. We stayed here for two nights.
Yellow-shouldered Blackbird

After a nice breakfast at the hotel and a slow start to our morning we went up back to the hardware store in Parguera where at 3:00 PM several Yellow-shouldered Blackbirds showed up. They were quite wary while we watched but it was a pleasure to see such an endangered species. From here we headed to the far southeastern tip of the island to see the lighthouse and watch the sunset.
The rocky shoreline was very beautiful as we walked out to the tip near the lighthouse. This was just general sightseeing rather than birdwatching but I was pleased to see Smooth-billed Ani in the bushes along the walk and several Brown Boobies on the rocks below the cliffs at the lighthouse. We had missed going into the lighthouse but it was a pleasure to see the beautiful coastline and area.
Bosque Estatal De Maricao
For our final morning in the southwest we decided to get up before light and try to see the Puerto Rican Nightjars again at Bosque Estatal De Guánica. Again we could hear them calling but had no luck seeing one. Still very early in the morning we headed up into the mountains to see if we could find Elfin Woods Warbler in Bosque Estatal De Maricao. Although we did hear them we never managed to see one. There were several other endemic Puerto Rican birds in this area too and it was nice to have been up here even if we missed the warbler. Our time was up for the birds and after having a bite to eat we headed back towards San Juan for the evening.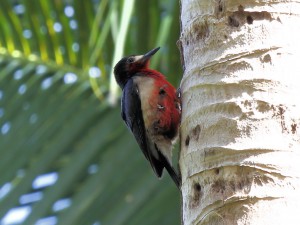 The Fort in Old San Juan

Our final day in Puerto Rico was mostly spent sightseeing in Old San Juan. The fort at the western tip of old San Juan is extremely interesting historically. From strictly a personal point of view, the considerations of what mankind has done to each other is unthinkable. The conditions in which the soldiers lived and fought to protect and maintain control of this strategic fort are beyond what I can consider.
Our visit to Puerto Rico was filled with experiences from beautiful lush rainforests to dry thorn forests. We had many encounters with rare and endemic Puerto Rican birds and other wildlife. This is a place I look forward to returning and exploring more. The history makes me shudder. Knowing how much of what we saw was at the brink of extinction makes me wonder how much have we really evolved? How alarmed are we at the mass extinction event that we are living in today? What is going to be left of this miracle of a planet we live in before we wise up?
Addendum 10/2017
We try to avoid politics in our writing here. The hurricane that laid waste on Puerto Rico in 2017 may have done far more damage than we will know for many years. Our planet's biodiversity is in jeopardy and we are not separate from it. Puerto Rico, its unique life, habitat, and its people are part of our country. Our politicians are not thinking to not have shown much greater alarm and taken much greater care of our fellow Americans and territory. What are we thinking???