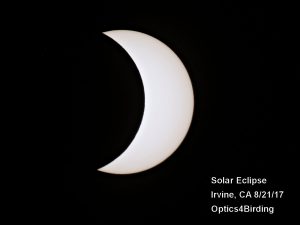 Today the buzz is the solar eclipse. Although here in Southern California we did not get the full solar eclipse, it was still a pleasure to see the partial occlusion. Of course, having a store full of spotting scopes and a solar filter for a spotting scope we snuck out briefly from our work to take a couple quick photos at the peak of the event, out in the parking lot.
The Optics4Birding store is located about 45 miles south of downtown Los Angeles. The peak of the eclipse happened at about 10:20 AM. It really was quite interesting. Although without filters to look through you would never know it was happening. The sun is so bright that from our vantage point and even with about 60% of the sun being eclipsed, with the naked eye you didn't notice any difference. Contrary to this, wearing solar filter glasses it was quite interesting. Looking at this through a spotting scope was really interesting.
Digiscoping the solar eclipse
We took photos with both the Swarovski ATX using a 95mm objective module and the Kowa TSN 884 spotting scopes. We used a Canon 7D mark II DSLR camera on the Swarovski ATX spotting scope and the TLS APO 30mm attachment.
On the Kowa 88mm TSN 884 we used a Panasonic Lumix G-6 Micro 4/3 camera with an Olympus 14-42 zoom lens. We attached this using the Kowa TSN-DA10 digiscoping adapter. Both setups are very simple to take pictures with. Normally we would be taking nature photos. Of course, this was a natural event! Typically, though, most of us are photographing birds or animals with our spotting scopes.
It did make for a fun morning and a nice break from work. The weather cooperated and we had nice clear skies. Certainly, many people will have gone out to see this today. Having the right stuff to enjoy these type of events is always a pleasure.